About Us
This web site is owned and operated by Rusty Gate Design + Print. We are a small family business that is committed to providing quality products and friendly service in print and design in particular vehicle signage such as spare wheel covers. Please see our web site for all our products and services.
Please feel free to Contact Us
---
Quality Spare Wheel Covers
Our soft spare wheel covers are made from high quality marine UV treated marine vinyls and custom sized to exactly suit your tyre. This gives the highest quality result, and ensures a great fit. Many inferior covers are made from cheap banner materials that are neither designed for the purpose or look very effective.
Completely Australian Made, for the tough Australian conditions, we are confident you will have a long lasting, UV resistant product, that will enhance you vehicle look or promote your business in a professional way. The lifespan of the cover is dependant on many factors which include the exposure to rain, sun, and general maintenance.
Our wheel covers also include a piping around the face of the cover which can be either black or white. This piping helps in strengthing and ensures a better sitting cover.
The covers are printed using strong long lasting speciality inks which give excellent durability and vibrant colour with any image, photo, text or logo on the face cover. The face and outer skirting of the cover is made from a durable UV treated marine vinyl. (Note: Larger orders can be screen printed to reduce costs. Please see our bulk order wheel covers).
To tension the cover around the tyre correctly, a heavy duty grade elastic is sewn on the inside of the cover, making it easy to take on and off when needed. There is also a piping, which can be in either black or white, that adds strength and flexibilty to the covers. We believe our UV marine vinyl covers are of a premium quality at a great price, and care is taken to ensure everything from design to print to manufacture is of the highest standard.
As our covers a made to suit, please allow up to 10 working days for manufacture, plus delivery times.
We also have many stock designs for you to choose, check out our Stock Design Sitemap or use the navigation above for even easier viewing.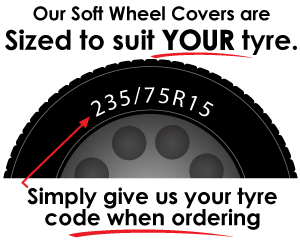 See our Gallery for more custom wheel cover designs.
Please feel free to contact us if further information is required on our custom spare wheel covers.
Please read our terms and conditions for further details when purchasing our 4wd wheel covers.
---